5 marca 2020 w Amigo w Krakowie na ul. Łowińskiego 7e odbyła się trzecia część wykładów " Co każdy jeździec wiedzieć powinien" prowadzonych przez panią Barbarę Zygmunt.

Tym razem gościem specjalnym był pan Andrzej Butenko, który przyjechał do nas z irlandzkiej firmy HORSEWARE.
To 35 letnia firma, specjalizująca się przede wszystkim w produkcji derek dla koni.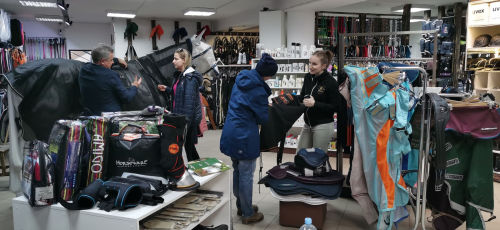 Przed zajęciami można było obejrzeć wszystkie modele derek oraz zapoznać się z ich unikalnymi właściwościami i parametrami.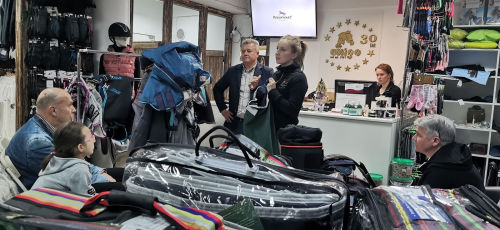 Kurs rozpoczął się prezentacją derki masującej konia.
Na manekinie sklepowym można było dokładnie zobaczyć jak to działa, zadać pytania i dowiedzieć się szczegółów.

Tematem pierwszej części wykładów były Ogólne informacje dotyczące jazdy konnej.
Pierwsze zagadnienie - Dosiad i pomoce jeździeckie.

Pani Barbara w bardzo ciekawy i dostępny sposób omówiła podstawowe zasady prawidłowego dosiadu: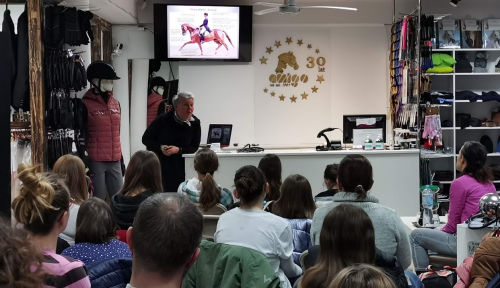 najczęstsze błędy w ustawieniu ręki: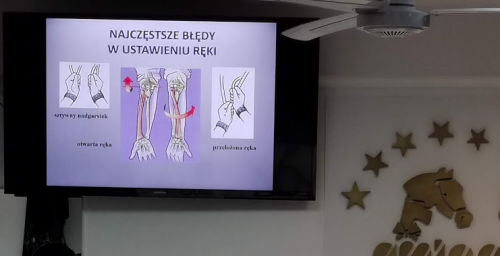 jak prawidłowo skracać wodze: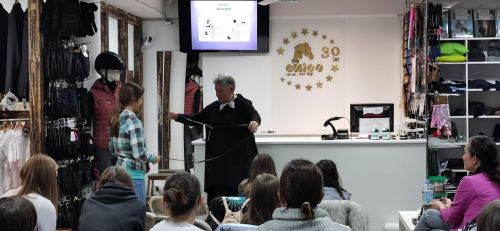 Jak ułożyć nogę i jak to zrobić aby "dać piętę w dół" ?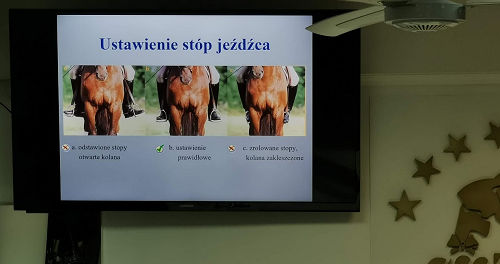 Następnie omówione zostały różne rodzaje dosiadów i pomoce: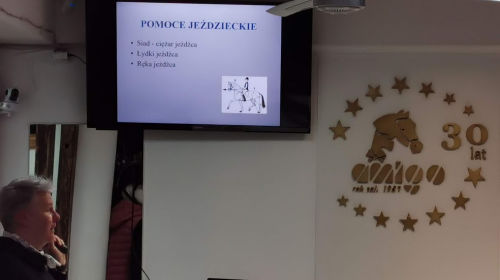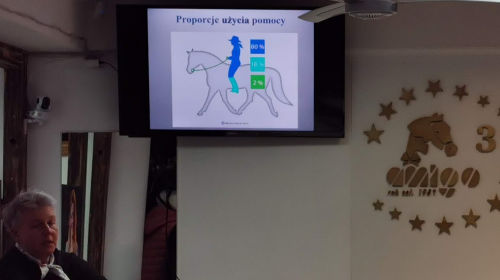 Planowany temat bezpieczeństwa w stajni i podczas jazdy został tylko częściowo poruszony.
Jak zachować się w stajni i przy koniu oraz ogólne informacji na temat kasków i ich atestu.
Dlaczego kask rowerowy nie nadaje się do jazdy konnej? Na czym polega różnica atestów?
Zainteresowanie uczestników było bardzo duże ale czas nie pozwolił na wyczerpanie bardzo obszernego tematu.
Wszyscy niecierpliwie czekają na ciąg dalszy w przyszłym tygodniu.